It's Your Party...Weim If You Want To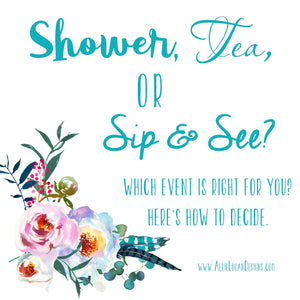 Allie Logan Designs offers custom invitations for bridal showers, baby showers, teas, parties, and more. But how does a hostess know which type of event to host? Here is a handy explanation of the differences!
---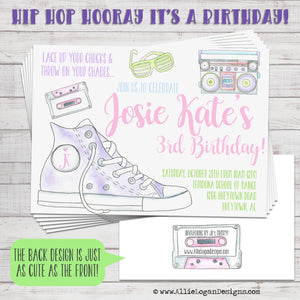 "Hip hop hooray...hey!" Allie Logan Designs founder Laura's daughter Josie Kate is quite the spunky sweetheart. So for her 3rd birthday, the average pink princess party just wouldn't do!  Josie takes dance classes at her local dance studio, and those ladies were super accommodating in throwing "JK" a hip-hop birthday party. As with any soirée, the theme is first introduced to the guests via the invitation. Check out this cute creation: A hip hop party is simple to pull off. Play fun kid tunes and let them go wild! The activities included instructor-led dancing, tumbling on gymnastics mats, and neon glow stick waving galore!...
---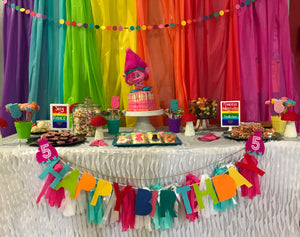 Trolls was a mega hit for DreamWorks Animation, so it's no surprise that we're super fans over here at Allie Logan Designs! When we recently spotted a Trolls-inspired birthday party on one of our favorite customer's Instagram feed, we KNEW we had to share with all of you.  As a disclaimer, we did not provide the invitations or printables for this party. Kudos to mom Ashley who sourced some very cute products.  However, we sure would have loved to work with her again! Here are two samples of our Trolls-inspired invitations:   Birthday girl Adley Kate's cake doubled as great party decor!...
---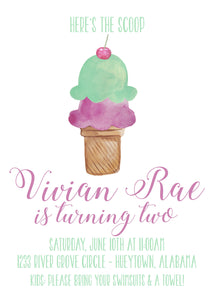 We had so much fun designing the invitation and party printables for sweet Miss Vivie! First of all, she's the daughter of one of our best friends here at Allie Logan Designs.  We've been designing for her since before she was even born. But secondly, there's nothing sweeter than an ice cream social on a hot summer day!   Following the trend in designs, this invitation was kept simple with clean fonts and a featured watercolor - inspired image that provided a "wow" factor. Check it out below:  Vivian is cute as she can be, so we happily agreed when...
---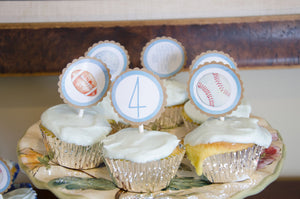 Below is a blog post from Shanisty Ireland - writer at She's Becoming Domestic. It was a pleasure designing invitations, a banner, and cupcake toppers for her adorable son's 4th birthday party. Happy Birthday Luke! We celebrated Luke's birthday with family, this past weekend. It was a really simple party with minimal decorations and homemade cupcakes. (Don't judge the cupcakes. Someone asked me if they were cinnamon roles. I'm a great cook…terrible baker.) I have yet to host a major birthday party for any of my kids…the more simple, the better. I was so thrilled a good friend from Alabama...